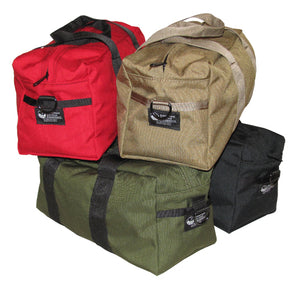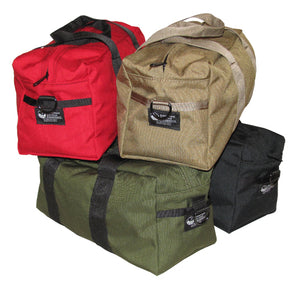 Best Glide ASE Alpha Response Survival Kit Bag - Large
The Best Glide Large Alpha Response Bag, formerly known as the Large Survival Kit Bag is a high quality, Mil Spec material survival kit bag that has been lacking in the survival kit market for some time. This bag is currently issued to numerous Federal Government Agencies and branches of the U.S. Military. In the Best Glide Survival Kit bags, you will find the same high quality materials and workmanship demanded by those in extreme conditions.

The BG Alpha Response Survival and Utility Kit Bag is identical to the medium bag except for its size. The BG Large Alpha Response Bag utilizes one central compartment to minimize the possibility of the bag getting snagged during emergency egress. It also includes two flat end pockets for the storage of items you might need in a hurry in an emergency situation.  The main compartment measures 8" x 8" x 15", thus giving you an ample 960 cubic inches of storage space. It is constructed of 1000 Denier Cordura with a 3/4 oz water repellent backing, YKK self healing zippers and D Rings for a shoulder strap if desired. Our Survival Kit Bags utilize reinforced seams, milspec webbing and milspec hardware. This is one tough, yet light, survival bag.

The BG Large Alpha Response Bag or Large Survival Kit Bag is utilized in the Wilderness Series - Survivor Survival Kit due to its large capacity and durability in extreme conditions. This bag currently comes in multiple popular colors, but can be special ordered in other colors upon request if quantity is needed. Best of all, the BG Large Alpha Response Bag is manufactured in the United States.

DETAILS:

1000 Denier Cordura
YKK Zipper
3/4 oz Water Resistant Backing
Mil Spec Hardware and Webbing
Mil Spec Construction
One large compartment
Two flat end pockets
960 cu in
Multi-Cam version includes shoulder strap
Government Issue
MADE IN THE USA
Current Colors:  Black, Red, Coyote Brown (Tan), OD Green, Multi-Cam

USES:

Survival Kit Bag, Medical Kit Bag, Flight Bag, Rope Bag, Bug out Bag, Egress Bag, Law Enforcement Bag and many, many more...

We are very proud of our line of Survival Kit Bags. Please be sure to also take a look at our Zulu Carrier, PSK Holder and Medium Survival Kit Bags. They are all made of the same high quality materials right here in the United States!