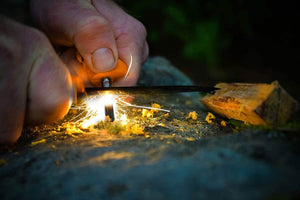 Swedish FireKnife - Mora of Sweden
The Light My Fire Swedish FireKnife, made by Mora of Sweden, is a colorful outdoor knife with Swedish FireSteel® fire starter. The Swedish FireKnife is a collaboration between Light My Fire and Mora of Sweden.  Mora has made top-notch knives for 120 years.

The Swedish FireSteel is more than just an extremely sharp, flexible and sturdy all-around knife.  The handle contains a fire starter which in a survival situation, can save lifes. In other words, you can gut and clean a fish, split kindling and light a campfire with one single handy tool.

The Swedish FireKnife has a blade of hardened Sandvik 12C27 stainless steel and a handle with a high friction rubber grip which is comfortable, easy and safe to use. Profile-grinding makes the blade fine enough to ease out splinters and the back of knife has been ground to work perfectly with the Swedish FireSteel®. The Swedish FireSteel® is durable (3000 strikes), works equally well when wet and creates a 2,980°C spark.

Swedish FireSteel Instructions:  Remove the protective paint on the new fire-starter with the back of the knife.  Then, push the edge of the knife slowly and firmly down the length of fire-starter.  The produced Sparks easily ignite a stove, TinderDust, Adventurer Tinder Quick Fire Starter Tabs, BBQ, paper, dry grass, birch bark or any other prepared tinder.  Be sure that before you start the process, you have built up a nice little pile of tinder and hold the tip of the fire starter close to, or in, this pile so that the maximum amount of sparks hit the tinder.

In a survival situation, the two most common tools are a knife and a fire starter.  They simply can do the most good for someone lost, injured are just having fun in the outdoors.  A good knife can help get food, assist with medial needs, help build a shelter and much more.  A fire starter helps provide life saving heat, helps start a signal fire, provide protection and warmth, enables one to cook food and much more.

Swedish FireKnife Specifications:

Colors:  Multiple
Length in Sheath:  8.9" x 1.8" x 1.5"
Knife Length:  8.5"
Blade Material:  Sandvik 12C27 Stainless Steel
Blade Length:  3.75"
Blade Thickness:  .07"
Grip:  TPE Rubber Material
Swedish Firesteel:  Magnesium Alloy 2,980°C spark
Weight with sheath:  3.4 oz.