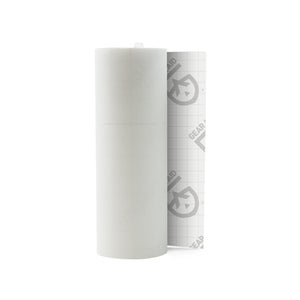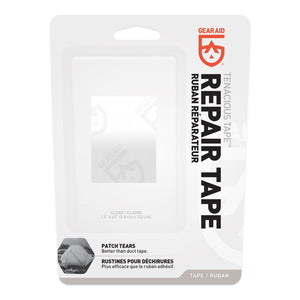 Tenacious Tape Repair Tape by Gear Aid
Use Tenacious Tape™ to patch up and repair all sorts of outdoor gear and make in the field repairs on tents, tarps, rain gear, fishing gear and more. With super aggressive stick and clean adhesive technology, Tenacious Tape works wonders on a number of gear repairs.


Tenacious Tape's super-aggressive adhesive is for long lasting repairs and incorporates clean adhesive technology.  This means Tenacious Tape leaves no sticky, ugly residue behind.  Made from the same fabric as high-quality tents, Tenacious Tape Repair Tape is lightweight and compact.  This makes it very easy to carry in the field. 

Using a combination of real tent fabric and high-strength adhesive, Tenacious Tape makes fast, permanent repairs. Clean adhesive technology allows Tenacious Tape to
be removed without leaving duct tape's ugly gluey mess. Best of all, Tenacious Tape Repair Tape works on nylon, vinyl, netting, plastic, and breathable fabrics.

Directions

Clean and dry the area to be repaired. Trim any  loose threads. Join the torn edges of the material. For smaller repairs, cut Tenacious Tape to the appropriate size, allowing overlap of the repair of at least 1 inch in all directions. Round the edges of the repair tape for the best adhesion. Remove the paper backing and apply to the damaged area over a hard, flat surface. Tenacious Repair Tape may be applied to the outside surface or inside surface depending upon cosmetic preference, or both sides for the highest performance repair.

After applying, rub with pressure using a circular motion from the center out. The repaired Item may be used immediately. Adhesive reaches full strength in 24 hours.

What it is

Tenacious Tapes are a range of outdoor repair tapes that use a special high strength adhesive. Unlike duct tape and other outdoor repair tapes, Tenacious Tape can be removed later without leaving a gooey residue behind. This is particularly useful on items such as rain wear, down jackets, tarps, survival gear, military surplus, sleeping bags, tents and packs where additional repairs may be desired at a later date. Tenacious Tape is made with real outdoor fabrics in the most common outdoor gear colors.

How it Works

Simply peel off the backing and apply to the damaged area.  Cut out sections of Tenacious Tape to the desired shapes and sizes for a precise repair.  For most repairs, apply to one side of the damaged fabric.  For extreme high strength repairs, apply Tenacious Tape to both sides of the damaged fabric.

Users immediately notice the very strong 'tack' to the adhesive. Many users have also commented their pleasant surprise at the precise fabric and color match to their gear. Users also consistently notice that the tape is much less stiff and 'bulky' than duct tape, allowing garments and gear to flex and pack up normally.