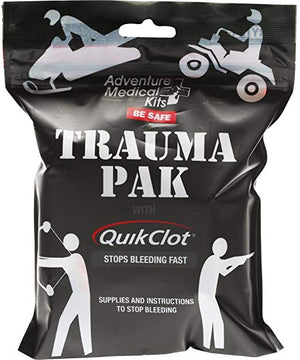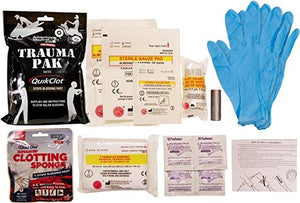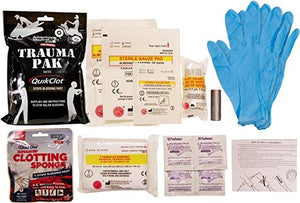 Trauma Pak with QuikClot by Adventure Medical Kits
This essentials-only trauma pack contains Adventure® Medical Kit's QuikClot, a hemostatic dressing that stops bleeding three times faster by accelerating your body's natural clotting process with zeolite. In addition to the hemostatic dressing, this pack includes a combine pad, triangular bandage, and gauze dressings to help control the bleeding and duct tape to hold it all in place. Packed in a tough, waterproof pouch that easily fits into a BDU pocket or glove box, the Trauma Pak is compact, easy-to-use addition to your medical kit, first responder kit, or everyday carry bag that could help you save a life.
Bandage Materials
1 - Bandage, Conforming Gauze, 3"
1 - Dressing, Gauze, Sterile, 2" x 2", Pkg./2
1 - Dressing, Gauze, Sterile, 4" x 4", Pkg./2
Bleeding
1 - Gloves, Nitrile (Pair), Hand Wipe
1 - 25 g QuikClot
1 - Trauma Pad, 5" x 9"
Duct Tape
1 - Duct Tape, 2" x 26"
Fracture / Sprain
1 - Bandage, Triangular
Wound Care
4 - Antiseptic Wipe
Medical Information
1 - Trauma and Accident Management Instructions
We reserve the right to add, substitute, or delete items if necessary
Size: Approx 6.5 inches x 5 inches x 1.5 inches
Weight: approx 5 ounces
SKU: MP1523