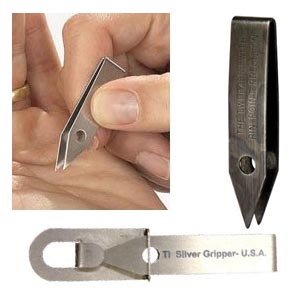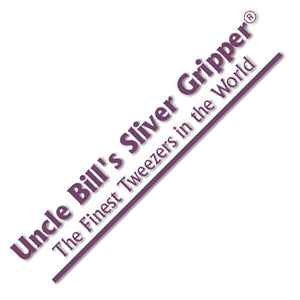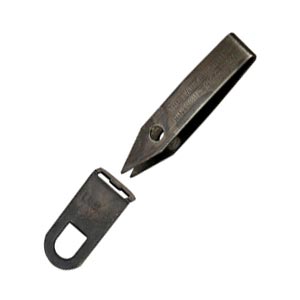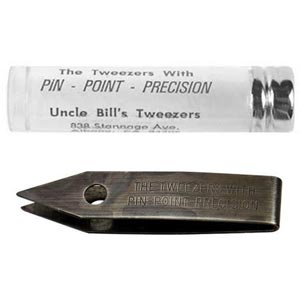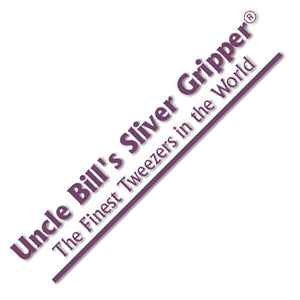 Uncle Bill's Sliver Gripper Tweezers
Sliver Gripper Tweezers are a unique precision point, heavy duty tweezer perfectly suited for rugged duty. Unlike other tweezers that are made by welding several pieces of metal together, Uncle Bill's Sliver Grippers are crafted from a single piece of spring-tempered stainless steel.

General Norman Schwarzkopf wrote about the SLIVER GRIPPER after Desert Storm: "I have never had a pair of tweezers in my life that was worth a damn. Now I do and I appreciate it very much." SLIVER GRIPPER(TM) tweezers are precision manufactured in West Hartford, CT, from American-made stainless steel. There is no other tweezer made with more care.

Sliver Gripper tweezers are made with such quality care that they carry a lifetime warranty. This is why they have come to be known as a "Military Tweezer".

Sliver Gripper Tweezers are available in either the Clip Version (for use to attach to a key ring for example) which includes a patented stainless steel clip holder for easy and convenient accessibility or the Reclosable Tube Version. The Sliver Gripper (Tube Version) contains the same high quality instrument as its sister Sliver Gripper Tweezer above except that instead of a clip that will keep the instrument 'at the ready', the Sliver Gripper Tube Version includes a convenient reclosable tube with a threaded cap.

In addition, the Sliver Gripper Tweezers are available in multiple finish options to include the Standard (Sliver Finish) and the NEW Black Oxide Finish.  Both versions are available in either Clip Style, which allows you to be able to clip the tweezers to just about any object and the tube version, which is designed to go into a pocket, pack survival kit or other container.

We recommend the Sliver Gripper Tube Version for kits, pockets, packs etc. and the Sliver Gripper Clip Version if you would like to attach it to a key ring, zipper pull or any item that would allow you to have quick access to the Sliver Gripper. Either option you choose, you still get the same high quality, rugged, durable Uncle Bill's Sliver Gripper tweezers that adventurers and survivalists alike count as a much needed piece of equipment.

For a limited time only, you can get your Famous Sliver Gripper in Titanium, from Best Glide ASE, one of only 20 retailers authorized to offer this amazing product!


The Sliver Gripper Ti, or Titanium, is the only U.S. Made Titanium Tweezer. Consumers already know of the high quality and large number of uses for the original Sliver Gripper but now, we welcome the Premium Ti Titanium Sliver Gripper which adds even more quality increasing traits to this amazing everyday, medical and survival tool.

Both the tweezer and the key chain clip are made from pure Grade 1 Titanium, which has the highest content of Titanium (99.6%) of any Titanium grade. This makes the Sliver Gripper Ti 45% lighter than steel yet still equal in strength.

Overall, this is the best tweezer we have encountered for survival and extreme use. The Titanium Sliver Gripper offers exceptional strength, toughness and durability. It is able to withstand extremes of both high and low temperatures and is extremely corrosion resistant. The Sliver Gripper Ti is non magnetic and made from metal that is considered to be the most biologically compatible and environmentally friendly of all metals.

"UNCLE BILL'S SLIVER GRIPPER(TM) TWEEZERS PROUDLY MADE IN THE USA"