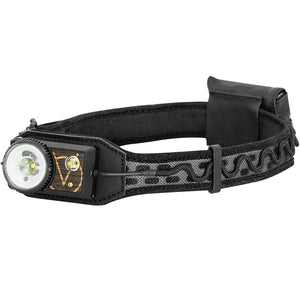 Vapor Headlamp plus Rechargeable (Black) by UCO
The Vapor + headlamp is the top of the UCO line for performance fit and lighting control. This versatile headlamp utilizes UCO's Precision Fit strap with a customizable, stitched neoprene strap available in multiple colorways. 3 Super Bright LED bulbs provide up to 300 lumens, with an easy to use Infinity Dial adjustment and red LED options.
Where the Vapor+ differs from the Vapor is in the Hybrid Power Source. The Vapor + includes a removable Li-Ion rechargeable battery pack, but can also run off 3 AAA batteries, giving you the versatility to choose how you want to power your after dark adventures.
Hybrid Power Source - Rus off lithium battery (included) or AAA batteries
Ultra Bright - 3 Super Bright LED bulbs provide up to 300 lumens
Infinity Dial adjustment and red LED options
Precision Fit strap with a customizable, stitched neoprene strap
Balanced light and battery pack
SPECIFICATIONS
HEAD STRAP: Hook and Loop Adjustment
LUMENS Up: to 300
HYBRID POWER SOURCE: 520 mAh Li-Ion Battery
BATTERY LIFE: 1.4 hrs on high
WATER RESISTANCE: IPX4
WEIGHT w/ Batt. Pack: 3.7 oz. (104 g)
DIMS: 2.3 x.65 x 1.4 in (5.9 x 1.4 x 3.5 cm)
PACKAGING: Peggable Box
SKU: FI1541