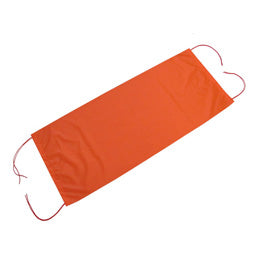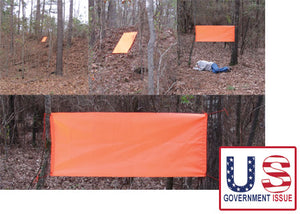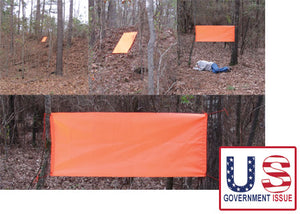 Best Glide ASE VS17 CIV Emergency Signal Panel
The Adventurer VS-17 CIV Signal Panel is a very durable signal panel modeled after the military VS-17 GVX Signal Panel. It is bright orange to attract attention of either airborne or ground search teams. It can be used as an aerial marker to mark locations of those in distress or areas that need to be relocated quickly. Due to its water-resistant backing, it can also be used in the construction of a survival shelter.

The U.S. Government uses this emergency signal panel for a number of reasons. The Adventurer VS-17 CIV Signal Panel, unlike the military version, is orange on both sides and utilizes high quality (Made in the USA) MIL-C-5040H Type III Parachute Cord as tie downs on each corner. The signal panel material is a highly durable 400 Denier, 100% Nylon with a water repellent backing.

The Adventurer VS17 CIV Signal Panel comes in fluorescent orange and is assembled in USA. The Adventurer Signal Panel is a replacement for the increasingly difficult to find Military VS17/GVX Signal Panel, NSN 8345 00 174 6865.
The Adventurer VS17 CIV Signal Panel has since been purchased and issued by the U.S Military which speaks to its quality level and usefulness as a signal panel.
An emergency signal panel such as this one is required equipment for flights over Canada and a valuable piece of no-frills signaling equipment anytime one could find themselves stranded away from civilization.