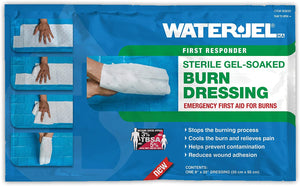 Water Jel Burn Dressing for Hands (8" x 22")
A burn dressing specifically designed for use on hand burns. This unique dressing features a special design to wrap between fingers to prevent fusing and completely wraps the hand to cool and protect it from contamination.
Gel-soaked, medical-grade non-woven material.
Sterile and foil-packed.