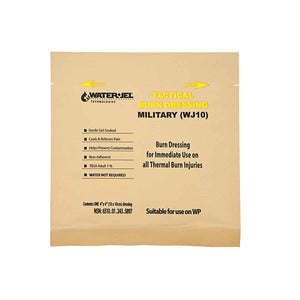 Water Jel Tactical Burn Dressing 4" x 4"
Water-Jel Burn Dressings are designed specifically for the U.S. Military:  NSN: 6510-01-243-5897 CEC: SPM2D0-09-D-0009. 
The custom made camouflage, sterile, military dressings stop the burning process, cool the burn, relieve pain, and protect against airborne contamination.
The non–adherent dressings include more rugged, subdued packaging with night vision compatible tabs, prevent re-ignition of white phosphorus, and have a 5-year shelf life from date of manufacture. Designed for front line point-of-injury care.
This Water-Jel burn dressing is a small, square-shaped, gel-soaked, sterile dressing that stops burn progression, cools the skin, eases pain, and protects against airborne contamination.
BENEFITS OF WATER-JEL: 
Stops the burning process
Portable—on the scene—when seconds count!
Cools the burn, dissipates heat, and provides pain relief.
Easy to use and Easy to remove (non-adherent).
Covers and protects against contamination; and, helps prevent infection.
Water-soluble - Won't irritate the eyes, nose, or mouth.
Clear formula allows professionals to see burn site without removing gel.
Odor free for more diverse application
Contains Hyaluronic Acid to aid in the helming of the burn injury
Contains MICRO Kill Antibacterial. 
Dimensions: 5.75" W x 6" H x .25" D (packaged)
Dimensions: 4" W x 4" H (dressing) Weight: 1.6 oz

SKU:  MP1606T