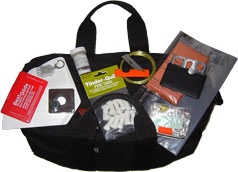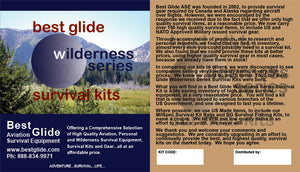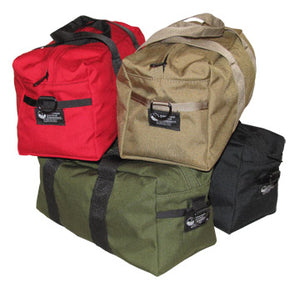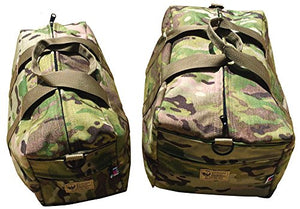 Best Glide ASE Wilderness Companion Survival Kit
The Best Glide ASE Wilderness Companion Survival Kit is one step above the Best Glide ASE Wilderness Trekker Survival Kit.  It includes an ample selection of high quality survival equipment, much of which are NATO or US Government approved.
The Best Glide ASE Wilderness Companion Survival Kit comes in the Best Glide ASE Alpha Response Survival Kit Bag (size: Medium), which includes one central compartment to minimize the possibility of the bag getting snagged during emergency egress.  This compartment measures 6" x 7" x 14.5", thus giving you an ample 609 cubic inches of storage space.  It is constructed of Mil Spec 1000 Denier Cordura with a 3/4 oz water repellent backing, YKK self-healing zippers and D Rings for a shoulder strap if desired.  It utilizes reinforced seams, Mil Spec webbing and Mil Spec hardware. This is one tough, yet light bag. Best of all, this bag is Made in the USA!
You can also substitute the Best Glide ASE Survival and Tactical Backpack (size: Medium), which comes in black only.  It comes with a modified Molle system (less than 1/2 inch spacing) and is made of high density, fabric-durable, and water-resistant material with with double-stitched, Heavy-duty zippers and utility-style cord pulls, side and front load compression system, comfortable padding back area, and ventilated mesh padding shoulder strap.  It has a hydration compatible compartment that works great with a hydration bladder (hydration bladder not included).  It includes two large pockets and two small pockets as well as additional pockets within the larger compartments.  It measures approximate size of 13" x 19" x 8" with an approximate capacity of 34 Liters.
The Best Glide ASE Wilderness Companion Survival Kit contents include:
(2) Mainstay 1200 Food Bar
(2) Mainstay Survival Water Ration
(10) Katadyn Water Purification Tabs
(50 ft) Brass Snare Wire
(1) 2 Gallon Water Carrier
(3) Flat Coffee Filters - Cone Style
Best Glide ASE Compact Emergency Signal Mirror (Stainless Steel)
Best Glide ASE Compact Tracker II Button Compass
Best Glide ASE Survival Whistle
Best Glide ASE Compact Emergency Signal Panel
All Weather Survival Matches
(10) Tinder Tabs
Best Glide ASE Fresnel Lens Fire Starter and Magnifying Lens
Heatsheet 2 Person Survival Blanket
Best Glide ASE Compact Fire Flint
Book of Matches
Best Glide ASE Pocket Camper Survival Tool
Military P-51 Can Opener
Folding Utility Knife (Orange)
12 Hour Cyalume Light Stick
Photon X Light Micro Light
(2) Mosquito Head Nets
Best Glide Expanded Medical Kit, which comes in a Heavy Duty Zip Lock Bag and includes: (5) Triple Antibiotic Ointment, (2) 2 Packs of Diotame-Antacid 262 mg tablet, (2) Diamode Diarrhea Relief 2mg, (5) Diphen Antihistamine 25 mg, (5) Non Aspirin, 2 Packs, (5) Aspirin, 2 Packs, (5) Electrolyte Tablets, 2 Packs, (5) Sun Screen, SPF 30, 1.5 gm Foil Packs, (3) Sting Relief Towlettes Individual Packs, (20) Band Aids, 1" x3", Plastic Latex Free, (2) - Gauze, 1" x 4.1 yds, (5) Steri-Strip/Butterfly Bandages, Moleskin, Triangular Bandage, (5) Gauze Pads, 4 x 4, and a Multi Trauma Dressing, 12" x 30"
Heavy Duty Aluminum Foil (1.5' x 4')
50ft MilSpec 550 Paracord
Rite in the Rain Journal Notebook
Pencil
Silica Gel Desiccant
9 x 6 aLOKSAK bag
Please Note: Minor substitutions are sometimes made due to product availability.