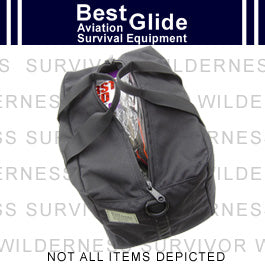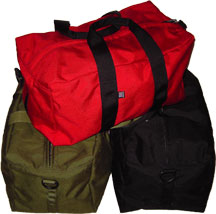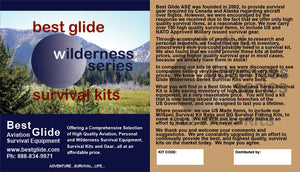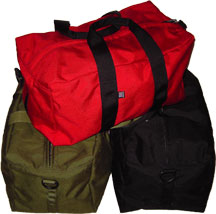 Best Glide ASE Wilderness Survivor Survival Kit
The Wilderness Survivor Survival Kit is the best equipped kit among the Best Glide ASE survival kits. It is simply the top of the line of premade survival kits. It includes an extensive selection of high-quality survival equipment, much of which is NATO or US Government approved survival equipment. Many of the survival items included in the Wilderness Survival Survivor Kit, like the smaller versions of the Best Glide Wilderness Survival Kits, are actual military issue.
The Wilderness Survivor Survival Kit is much more comprehensive than the Trekker and Companion Survival Kits. It is one step above the Wilderness Guardian Survival Kit, another very well stocked kit.
The Wilderness Survivor Survival Kit is currently in use by numerous US Government agencies, large corporations and individuals alike.
The Wilderness Survivor Survival Kit is housed in the Best Glide Large Survival Kit Bag which includes one central compartment to minimize the possibility of the bag getting snagged during emergency egress.
This compartment measures 8" x 8" x 15", thus giving you an ample 960 cubic inches of storage space. It is constructed of 1000 Denier Cordura with a 3/4 oz water repellent backing, YKK self-healing zippers and D Rings for a shoulder strap if desired. It utilizes reinforced seams, Mil Spec webbing and Mil Spec hardware. This is one tough, yet light bag, offered in red, green, coyote brown or black.  Other colors are available for special order.
Best of all, this bag is Made in the USA! This is the most equipped survival kit in our Wilderness Line of Survival Kits.
However, if you would like some modifications made, just let us know. We would be happy to help with any additions or subtractions. 
Wilderness Survivor Survival Kit contents:
Food and Water
Mainstay 3600 Food Ration - USCG (2)
Mainstay Survival Water Ration - USCG (6)
Food Gathering
Best Glide Basic Emergency Fishing Kit
Katadyn Water Purification Tabs - EPA 30
Brass Snare Wire (50 Ft Length)
2 Gal Water Carrier
Military Speedhook -
Military Issue Flat Coffee Filters - Cone Style (3)
Information and Training
Ultimate Survival Guide - Wiseman
Backcountry First Aid and Extended Care
Signaling and Navigation
Compact Signal Mirror
Brunton Star Baseplate Compass
Orion Land/Sea Dye Marker
Adventurer Tornado Whistle -
NATO/SOLAS Adventurer Emergency Signal Panel
Warmth and Shelter
All Weather Matches - NATO Approved
Best Glide Fresnel Lens Fire Starter
Heatsheet 2 Person Survival Blanket or similar
Compact Fire Flint Adventurer Fire Starting Tabs (20)
44 Hour Nuwick Candle/or similar
Best Glide Matches 
Tools and Sharps
Victorinox Recruit Knife
Spiral Wire Pocket Saw - Made in USA
P-51 Can Opener
Military Issue Folding Utility Knife (Orange) - NSN
Flashlights and illumination
12 Hour Cyalume Light Stick (2)
30 Min High Intensity Cyalume Light Stick
Inova X1 2.0 LED Light
Medical and Protection
Adventurer Mosquito Head Nets (2)
Sawyer Extractor Bite Kit
Best Glide Complete Medical Kit -
Povidone/Iodine Swabs (5)
Triple Antibiotic Ointment (10)
Diotame-Antacid 262 mg tablet, 2 pack (5)
Diamode Diarrhea Relief 2mg (5)
Diphen Antihistamine 25 mg (5)
Non Aspirin, 2 Packs (15)
Aspirin, 2 Packs (15)
Electrolyte Tablets, 2 Packs (5)
Eye Irrigate Solution, 1 oz. (1)
Lip Balm - Blistex, .5 gm packets (5)
Sun Screen, SPF 30, 1.5 gm Foil Packs (5)
Sting Relief Towlettes Individual Packs (5)
Band Aids , 1" x3", Plastic Latex Free (20)
Gauze, 2" x 4.1 yds (1)
Adhesive Tape, Waterproof, 1" x 10 yds (1)
Gauze, 1" x 4.1 yds (1)
Steri-Strip/Butterfly Bandages (5)
Emergency Bandage (Civilian) (1)
Triangular Bandage (1)
Moleskin (1)
Gauze Pads, 4 x 4 (10)
Multi Trauma Dressing, 12" x 30" (1)
Heavy Zip Lock Bag (2)
Accessories
Heavy Duty Aluminum Foil (1.5' x 4')
Adventurer Sewing and Repair Kit
50ft MilSpec 550 Paracord - NSN
Rite in the Rain Shirt Pocket Notebook
Best Glide Pencil
Bags and Containers
Best Glide ASE Survival Kit Bag
MilSpec Construction Silica Gel Desiccant (3)
9 x 6 Aloksak - US Navy Approved (3)
Note: Minor substitutions sometimes made due to product availability.