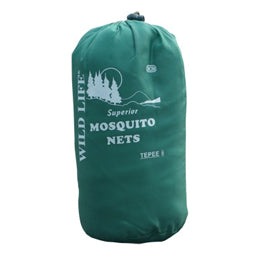 Wildlife Mosquito Net
The Wild Life Teepee II Mosquito Net is a mosquito net designed to sleep under to be protected from night time biting insects. 
BCB Wildlife® mosquito nets provide effective protection against mosquitoes, gnats, midges, horse flies, ticks, tsetse flies and most other biting insects. BCB Wildlife® nets are made from lightweight 40 denier mesh and have a central suspension point for protecting your sleeping area, whether a bed or sleeping mat.
A nighttime mosquito net can be an invaluable friend while camping or in a survival situation. Insects are not only a nuisance, but can cause medical complications in many areas.
See also our Adventurer Series Mosquito Head Net for more mobile protection.
Teepee II features include:
• Mesh: 150
• Height: 68 in
• Skirt Width: 118 in
• Weight: 15 oz
• Hanging Loops
• Nylon Storage Bag
• Netting Color: White