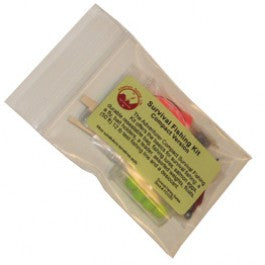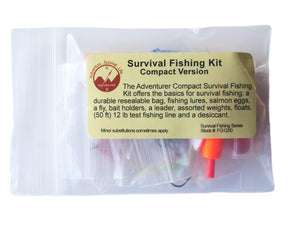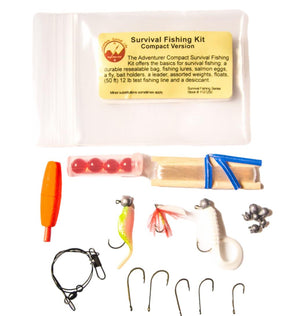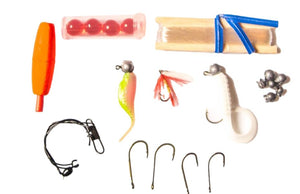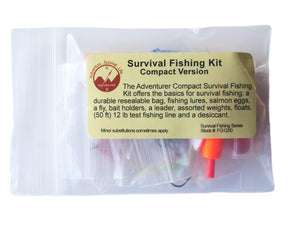 Best Glide ASE Compact Survival Fishing Kit
The Best Glide ASE Compact Survival Fishing Kit is much flatter than the Basic Survival Fishing Kit thus making it perfect for thin survival kits. It is a great addition to any survival kit or outing into the wilderness. This quality kit includes the most used items, in sufficient quantities for emergency food gathering (survival fishing).
Contents Include:
(1) Heavy Duty Zip Lock Bag Jig
(1) Swirl Tail Grub Jig
(1) Tiny Shad Jig Head
(2) 1/16 Unpainted Round Bait
Tube of Salmon Eggs or Crappie Nibbles
(1) Fly - Size 10 1/8
(1) Desiccant - Moisture Absorbing Packet Hooks
(2) #4 Hooks
(2) #6 Hooks
(2) #8 Leaders
(1) Wire Wound Leaders Split Shot
(3) BB Split Shot
(3) 3/0 Bobber
(1) Tooth Pick Float Line
(50 ft) 12LB
Note: Minor substitutions sometimes occur.
The Best Glide ASE Compact Survival Fishing Kit is only 1 of 3 in our line of very popular emergency fishing kits:
Also check out the The Best Glide ASE Basic Survival Fishing Kit and The Best Glide ASE Standard Survival Fishing Kit.
Please also see our Best Glide ASE Survival Gill Net as well as our Best Glide ASE Extra Gear Fishing Kit. 
All are made with the same high-quality components and are very reasonably priced. Even if you don't buy it here, we highly recommend a survival fishing kit as a component in your survival kit. A Survival Fishing Kit, or Emergency Fishing Kit, is an item that could truly save your life.
Woodsmonkey.com  had this to say about the Best Glide line of Emergency Survival Fishing Kits:
"These two kits from Best Glide are pretty impressive. The Compact kit will serve the ultra-light backpacker in the event of an emergency when it's necessary to focus on food. If weight is critical, with the 6mil pouch containing the Compact kit is the way to go. For a long trip, or when it may be necessary to support several people in an emergency, the Standard kit is an excellent choice."
Other Highlights:
Assembled in the USA
Meets Alaska/Canada Over Flight Requirements
Order Code: FG1250
Size: 3" x 4" x .25" (variable)