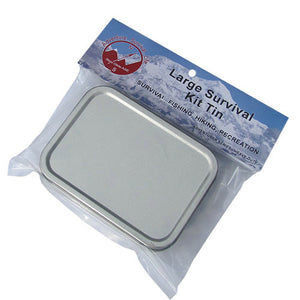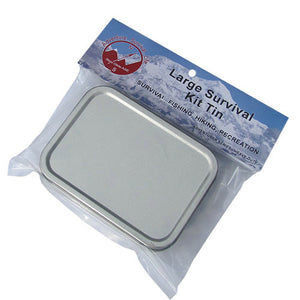 Survival Kit Tin
The Survival Kit Tin is a perfect container for a small or personal survival kit. It also lends itself to being a perfect container for a small first aid or fishing kit. One of the main problems in designing your own survival kit, or finding a good one for that matter, is the packaging. How it is stored seems to make much of the difference between a functional kit and one that could use improvement. The Survival Kit Tin is a perfect solution to this problem.

This small metal tin is the same one used in the Military Issued Military Scout Pocket Survival Kit, Survival Fishing Kit and the Adventurer Pocket Survival Kit.  This Survival Kit Tin measures approximately 4.5" x 3" x 1" and incorporates a thin rubber seal to aid in keeping moisture out.

We include a 1 oz Silica Gel Desiccant with each tin to help you keep your survival items free from moisture. Each Survival Kit Tin comes packaged in a zip lock bag suitable to store your tin in while not in use, doubling your effectiveness in keeping the contents dry.

For a complete storage solution, add the increasingly popular Best Glide Personal Survival Kit Tin Holder to your order made from milspec materials in the USA!