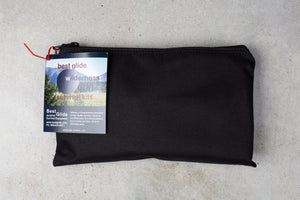 Best Glide ASE Wilderness Trekker Survival Kit
The Best Glide ASE Wilderness Trekker Survival Kit is the smallest kit in the Best Glide Wilderness Series of Survival Kits. It includes much more than a personal survival kit, including only the highest quality items that would be most used in a survival situation, but not nearly as comprehensive as the Companion, Guardian or Survivor Survival Kits.
The Best Glide ASE Wilderness Trekker Survival Kit is packaged in a 9" x 6" Mil Spec aLOKSAK bag and our Best Glide ASE Ready Five Compact Kit Bag.  It is designed small enough to be stored with existing equipment or survival gear.   As an option, add the Best Glide ASE Adventurer Survival Kit Box which adds extra protection and utility to your Trekker Survival Kit. 
The Best Glide ASE Wildernell Trekker Survival Kit includes:
Katadyn MP1 Water Purification Tabs
Brass Snare Wire
Cone Style Coffee Filter
Best Glide ASE Compact Emergency Signal Mirror
Best Glide ASE Compact Tracker II Button Compass
Best Glide ASE Survival Whistle
Tinder Quik Fire Tabs
Best Glide ASE Fresnel Lens Fire Starter and Magnifying Lens
AMK Heatsheet Survival Blanket
Military Grade Fire Flint
All Weather NATO Matches
Best Glide ASE Pocket Camper Survival Tool
Folding Utility Knife - Orange
Best Glide ASE Trekker First Aid Kit
(4) Ben's 30 Deet Wipes
Photon X Light
Heavy Duty Aluminum Foil
Water Proof Journal Mini Notebook
Pencil
Silica Gel Dessicant
9 x 6 aLOKSAK Bag
Ready Five Compact Kit Bag
Best Glide ASE Survival Tips
Please Note: Minor substitutions sometimes apply due to product availability.
The Wilderness Trekker Survival Kit is our basic survival kit. However, this kit is far from basic. It contains more useful items than many, so called, "advanced kits". However, if you are looking for more, check out our other Wilderness Survival Kits. If you are interested in even more compact kits than this, check out our Compact  Survival Kits. 
Stock #SK1242